NOTE:
StyleTap for Android interim version v0.8.033 is needed to run under
Android 11
, and requires the use of
Web Tools
to install and export Palm apps and databases. See the v0.8.033 Release Notes for more information.
Contact StyleTap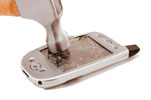 Need a replacement Registration Key?
Use our online key replacement service.
Sales Inquiries
For fastest response send email to sales@styletap.com
Technical Questions and Problems
For fastest response, create a new case
Send us an Email
Correspondence
1 Yonge Street, Suite 1801
Toronto, Ontario, Canada M5E 1W7